Bikini Ballet from Bikini Ballet on Vimeo.
Bikini Ballet Showcase
Bikini ballet has been created by Chris Lennon and Taira Foo, who have a combined 30 years experience in the performing arts industry, working with artists such as Elton John, Sting and Queen.
They also conceived and run Hinged dance company whose latest show "The Soloist" can be viewed in the following clip.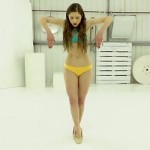 About The Show
Bikini ballet mixes high end choreography, beautiful dancers and bikinis to create beautiful and exciting entertainment. If you want your event to have something different and exciting this is for you.
Our regular show involves 3 dancers each performing a solo, then 3 group pieces, generally one ballet piece, one contemporary and one performance piece. These pieces can be performed on one main stage or split throughout your event, for example the solos may be performed near a bar area or in between courses of a meal.
However bikini ballet can be tailored to any event. The number of dancers, structure or even content of the pieces can be adapted for to your specification.
We can also create totally unique pieces for your event , tell a story of your choosing or perform short versions of existing ballets.
Live vocalists can be provided.